Excellent question! But first, let me share a personal story with you....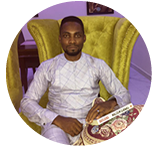 I'm Ayoola Dagunduro - Founder SniperCRM

The year was 2018. Just like every new e-Commerce marketer, I was super excited after discovering the power of selling a HOT product.

I had been told how I'll make "MAD" profit if I could import a HOT product and fire up facebook ads.

3 weeks down the line, I successfully imported 200 pieces of this HOT product (My 1st and 2nd mistake).

Sunday night, my facebook ads were all set.... with 200 USD/day ads budget, I fired up my ads. (3rd mistake)

On Monday morning, I couldn't believe my eyes!!!! 79 orders had come in!!!

WOW!!!

Excited, I began calling all my customers to confirm their orders. 65 customers confirmed they were expecting delivery while the remaining customers were unserious ones.

"No shaking". Punching my calculator (₦28,000 multiplied by 65 = ₦1,820,000), I screamed out in joy!

"O Boy see money, I don hammer"

I quickly sent out products to the states where confirmed orders had come from (4th mistake)

Next, I forwarded the orders to delivery agents... while waiting for my bank account balance to start dancing 'gbe body'.
Day 1: Only 9 orders delivered
Day 2: Only 3 orders delivered
Day 3: Another 2 delivered

"What the hell is going on here" - I wondered.
"I thought 65 customers were already waiting for the product"

This went on for another 2 days and after 1 week...

TOTAL DELIVERED ORDERS: 18!!!! Out of 65?!!!!!!!!!!!!
I was heartbroken.
I almost fainted.
That was how my dream of buying Benz in 3 months began to shatter.

To make matters worse, I 'made' ₦504,000 (remember 18 orders got delivered out of 95) but all I saw in my bank account was ₦122,000!!!!

"Haaaaa, my village people are on my matter. Oh God help me!!" I lamented.

And on my Facebook Ads Manager, that wicked boy, Mark Azubuike was showing me 79 Purchases; ₦2,212,000 Purchase Value with x38 ROAS!!!!!
And here I was with only ₦122,000 sitting in my bank account!

Just imagine.

What was my total expenses?
What was the total cost of product purchase?
What was my NET profit?

I knew nothing about this. I was making money but not seeing it.

Why?

I didn't know my numbers!

All my orders were always mixed up, lumped up and all confusing because I was collecting orders using Google Forms and WP-Forms (my 5th mistake)

Many orders kept missing. I'll see 40 orders on my FB Ads Manager but my WP-Forms will show 34 orders. I just concluded that FB was giving me fake purchase records for whatever reasons, I couldn't tell. Imagine how embarrassing it is for customers to call and say "I placed an order 5 days ago and nobody even cared to call me to confirm my order". Only for you to search and you can't find his details.

Which mouth will you now use to tell the customer to give you his details all over again?

Shey we were lucky some customers called. What happened to the many others who filled their details, it never got to us and they don't call?

We were loosing money BIG TIME!

Also, there was no way to get detailed reports, no way to know orders that had been scheduled without wasting many hours. No way to keep proper inventory, no way to know what my expenses were, not to even talk of NET profit. I mean, there was ABSOLUTELY NO WAY to track ANYTHING

The days we had many orders, to know the exact quantity of our products in each state, we had to rely on the words of our delivery agents. That was how one told us we had only 4 units of a product left and we believed him. Only for one of my eagle-eyed staff to detect few weeks later that we should have 7 left. Then the agent said "ehm, it was inside one big carton under my bed, I didn't see it. I am sorry".

There was no reporting system, no tracking system, no reminder system, no inventory management, NOTHING!

We had to do all these..... MANUALLY, wasting well over 8 hours daily.

Right before my eyes, I was becoming a slave to my business!

It was at this point I knew I must find a solution....
FAST!!!!!
"ENOUGH IS ENOUGH" - I said to myself.

I knew the ONLY solution to save my dying e-commerce business was to get a Software to Automate most of my business operations.

I bought lots of softwares. Just a handful were good, others were complete trash. And the good ones were NOT built for Nigerian e-commerce business.
So many limitations that I couldn't find a way around.

Luckily, I also own a Software Development Company and that was how the journey began....

For the next 2 months, we were busy gathering all the requirements to build a Software that solves problems of every e-Commerce business in Nigeria and in exactly 11 months (November 2019 to be precise), the revolutionary Software was born!

We started using this Software in January 2020 and by December 31 2020, we had delivered orders worth ₦110,000,000. One Hundred and Ten Million Naira!!!!
(Over 15 times more than our revenue from 2018 - 2019!)


Because of this Software, we were able to:

Manage, Track & Scale our e-commerce business very easily!
- Close as much as 85% of all orders
- Sell more products without spending extra kobo on ads
- Build our email list and continue pulling out money from our customers wallet
- See Eagle Eye report of the business at any given time
- Make informed and smarter business decisions FAST
- Scale our e-Com business like we were on steroids


I now have peace of mind, knowing my numbers like the back of my hands, with the click of just few buttons!
I now also have enough time to do the things that really matter in my life! (Ofcourse my e-commerce business matters a lot to me but it shouldn't tie me down like I was kidnapped)

Few e-commerce business owners we gave access were BLOWN AWAY!

But how can I and just a few of my friends be the only ones enjoying this?

Won't you call me a wicked man if you got to find out?


Dear Elite E-commerce Business Owner...
Today, I give you